It's been a bit chilly here recently. And in the absence of anything humorous occurring to me, I thought I'd keep my pretence of journal-keeping alive by whinging and showing some of my photographs. As this may not be to the taste of all three of my regular readers, I'm going to use my first ever LiveJournal cut. Get the full story after the break!!!!!!!!!



Is this thing on?

Right then, before Christmas. 21st December. I tend to feel a bit hard done by if my journey back from work in the evening takes three quarters of an hour. But there was a bit of snow, and that caused gridlock. The bit of the journey that normally takes 20-25 minutes took two and three quarter hours of sitting in stationary traffic or creeping forward a few yards. This is what it felt like: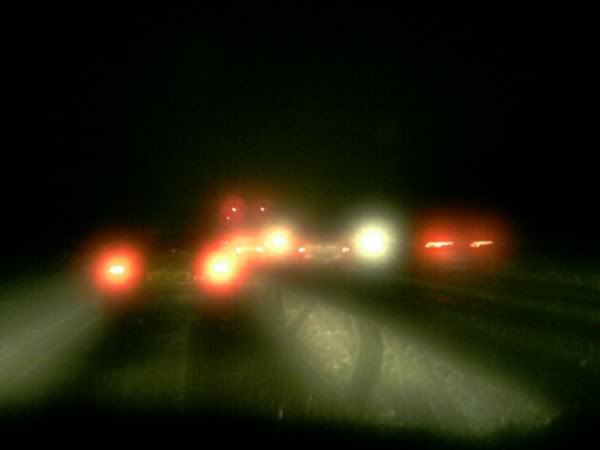 Once I was off the motorway, I imagined that the rest of my journey might take another hour as it's normally less than 15 minutes. Instead it took four hours. Total journey time six hours forty-five minutes. In Reading you can't get anywhere without going up or down a hill. As none of the hills had been gritted, nobody could get to anywhere.

The following day I took the train.




After a Christmas break during which I worked on marketing a company's software licensing options rather more than I might have wished, all the snow was gone. Then more arrived.




It stayed cold. Ideal weather for icicles.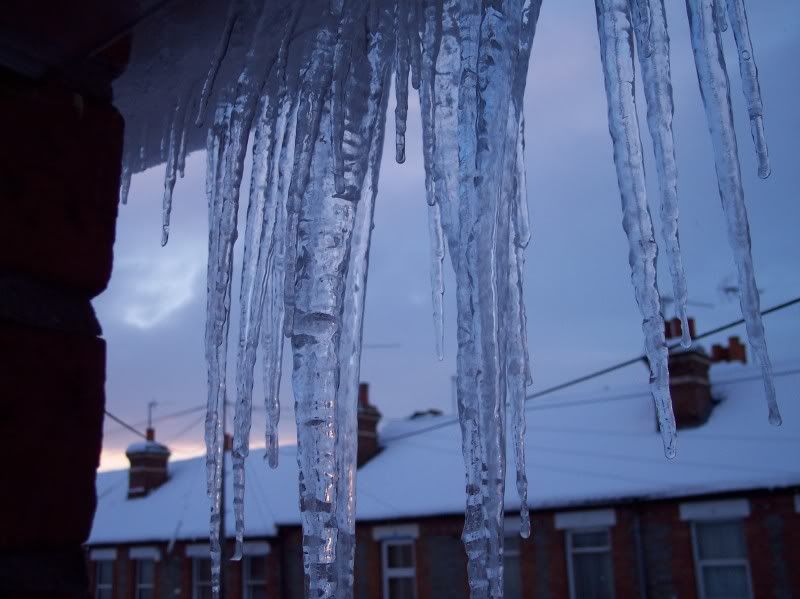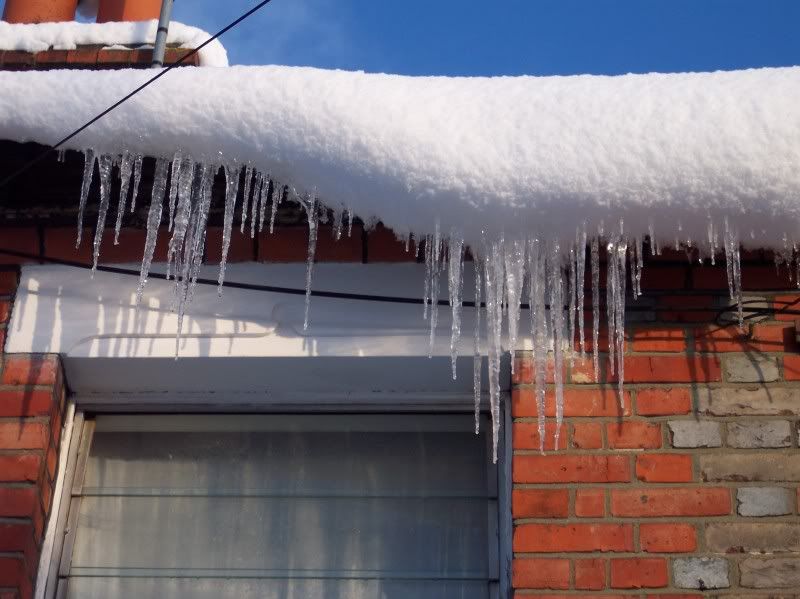 Here are the icicles at sunset. Or maybe the gutter is bleeding.




Where icicles drip...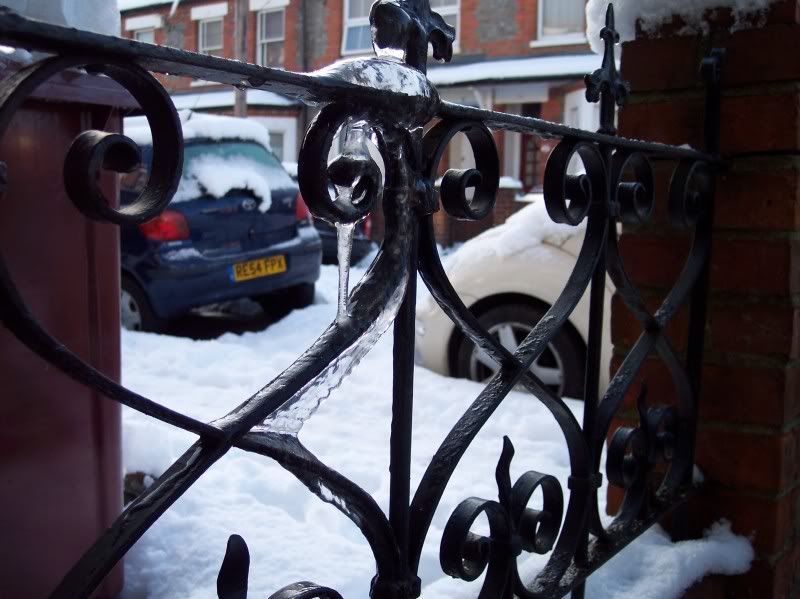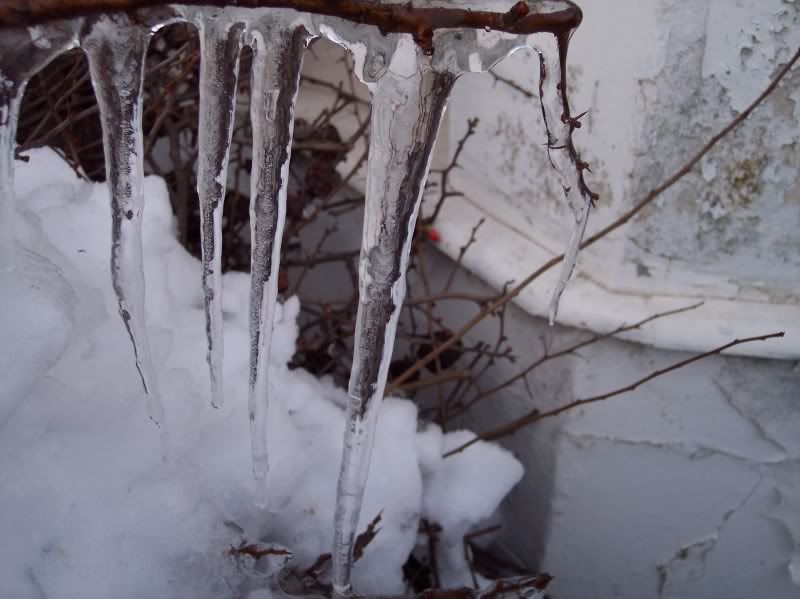 What icicles neglect to tell you as they're hanging down all pretty-like is that they are really very heavy and like nothing better than taking down guttering. And so it was that when I returned to my house last Saturday, the icicles and snow had slumped onto the pavement, leaving the gutter and the fascia hanging precariously on three telephone wires.




I spent some entertaining time leaning out of my window and slowly sliding the fascia/gutter combination sideways off the wires and then manoeuvring it to ground level. Not entirely sure how I managed that now. I punctured my thumb with a nail, possibly as predicted by the icicles in a Snow White Tribute / Sign Or Portent.

Then a couple of days ago one of the gutters at the back of the house was brought down, smashing the plastic roof underneath in 5 places. Since when the melting snow has been dripping through in large volumes.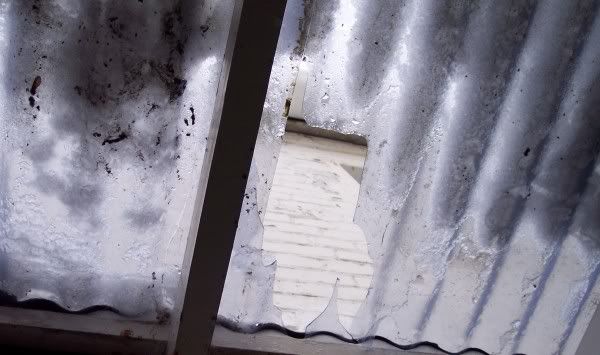 I've been taking the train into work this week... not keen on driving in snow these days. From the train in the snow I have seen two pheasants by a frozen lake, a rabbit huddled by an embankment, and a deer looking up as it rested in a wooded area, possibly just waking up.

The snow is melting away. I have two gutters left, one of which was twisted out of shape by the first snow. I wonder if they'll stay up...