A week ago I decided I had to investigate the noises in the chimney-breast.

Some years before I moved into this house, builders removed the fireplaces, blocked up the hearths, and plastered and papered over the area. There used to be a hideously gaudy electric fire in front of the chimney-breast, but I managed to dump that in a skip when we moved office in the early part of this decade.

Anyway, from Thursday 17th I had heard the occasional scratching and tapping sounds from behind the wall. They weren't constant or desperate, and I decided they were probably just a mouse that had found another new and exciting brick-strewn route from one bit of wainscotting to another. If I knocked back, the noises stopped as if I had scared off a rodent. But what if they were a bird or something that had got trapped in there? I resolved that if I kept hearing the sounds, I would have to do something about it.

So, Sunday morning came and with it a bit of scratching and knocking. So I peeled off the wallpaper, applied a chisel to the side of where the hearth would have been, and hammered away at the plaster. I broke through and shone a torch in. After a while, there was movement.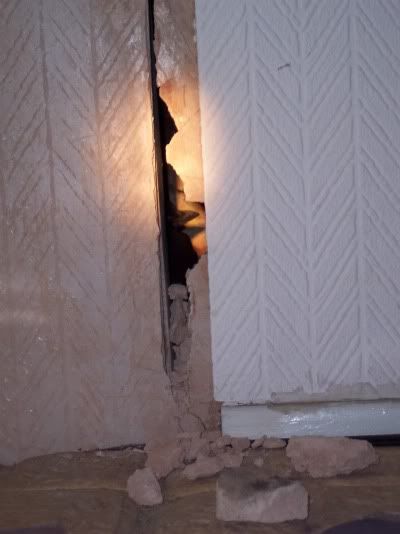 I was unsure what type of bird it was. Perhaps a pigeon or a crow? It ate some bread it was offered, and showed itself to be a magpie.
I tried many things to encourage it to come out of the hole in the wall. I tried shining the torch in, put a mirror opposite to grab its attention, opened the doors to get a draught through the house... but the hole I had made was not big enough. More masonry work was called for.

Eventually it stuck its head through the larger hole, pulled back, then tried again and stalked out...


[pause while I install new batteries in my keyboard and restart my computer, several times...]

The young magpie flew onto one of my bookcases, where it preened away some of the dust and took a little more food. It was then lured though a window into the passage covered by my new plastic roofing...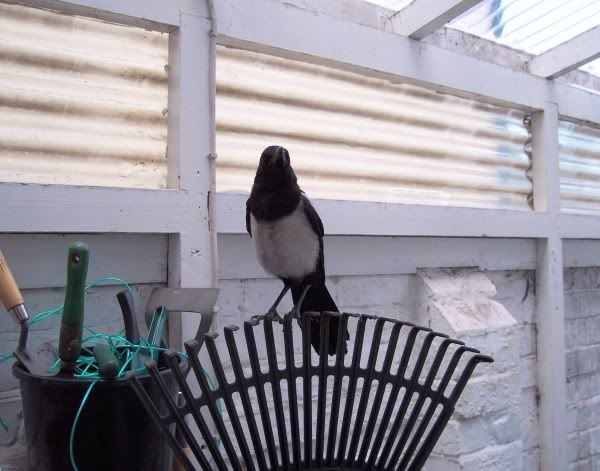 It tried to fly up but hit the plastic roof. It tried again, attempting to squeeze under one of the wooden supports. I pointed out the open back door with its easy access to the outside world, but the magpie was feeling frantic and in no mood to pay any attention. I had to climb up on a chair and grab hold of it. As I stepped into the garden the magpie got the idea and flew out of my hands.

That evening the magpies in the area were very vocal and excited, with a bit of formation flying. A couple of days later I saw this magpie with a parent. It's a bit raggedy but free to fly. Not ready for an independent life yet.

I feel bad that I left it imprisoned for several days, but I honestly thought a bird would make more continuous noise and tweet (or rattle, in a magpie's case).

A similar story: the winter before last, I was walking alongside the Thames near where I live. I heard a very quiet tap-tap-brush sound. I thought it was probably the river pushing a floating can against some plants, but I was intrigued and wanted to know for sure. It turned out the noise was coming from a beer can stuck in a bush, not visible from the path. I picked the can up and looked inside, but couldn't see anything except some leftover beer. I brought it close to the ground and poured out... a bank vole. It had climbed in through the hole at the top, fallen in, and then been unable to climb the steep sides of the upright beer can to get out again. Freed, the bank vole looked at me and then sauntered unsteadily into the undergrowth.

In both cases those creatures were in an impossible situation, but they struggled anyway. They struggled to get out, even though each attempt at escape was fruitless. But the act of trying to escape created noise, and the noise led to actions from someone else that achieved what they wanted.

Perhaps a magpie stuck in a sealed-off fireplace is just that. Releasing it, though, maybe that can mean something. I wonder what?